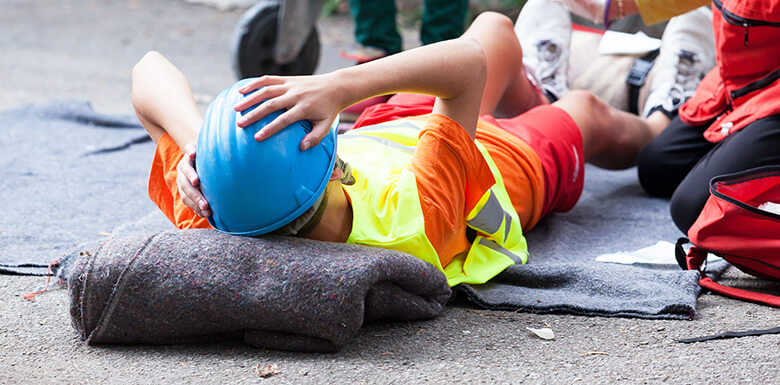 A work injury can make life extremely difficult for both your and your faily. From wage loss and financial worries to physical pain and medical treatment, the problems caused by workplace accidents demand real and quick solutions.
At Weston Law Minnesota, we know how to handle cases involving work injuries. We will get you the workers compensation benefits you deserve. Our workplace accident lawyers are very familiar with the federal and Minnesota state safety regulations that are specific to these types of claims.
Just because your workplace may be considered dangerous, your supervisor, employer, or general contractor still has a legal responsibility to keep workers safe. Most workplaces have strict and necessary precautions to avoid getting injured or even killed. Accidents happen, but accidents are often due to the employer failing to take sufficient care and abiding by the state safety regulations.
We are experts in navigating these workplace accident laws in Minnesota and we will help you recover your losses.
Typical Workplace Accident Injury Benefits
If you are the victim of a workplace injury, you may be able to file one of the following legal claims:
1. Workers' Compensation Claims
All employers are required to purchase workers' compensation insurance in Minnesota. If they don't have this type of insurance and an employee gets injured on the job, the employer may be personally liable for any medical expenses of the employee.
In Minnesota, workers' compensation is based on a no-fault system. Because it's a ''no-fault system'', the employee is protected even if there was no negligence on the part of the employer.
Even if you made mistakes that caused your workplace injury, you are still liable for compensation (as long as you did not violate company policy or were intoxicated).
Injured employees receive various benefits, which include weekly payments and reimbursement for medical expenses.
2. Third-Party Liability
It's also possible that a third-party is liable, such as a property owner or product manufacturer. They can be liable for negligence when an injury occurs at a construction project site.
3. Wrongful Death Claims
A wrongful death claim can be possible as well. If someone else, by either action or a failure to act (neglect), causes the death of an employee, the victim's family or estate may bring a civil action to collect damages on the victim's behalf.
The Protection of your OSHA Rights
Thanks to the Occupational Safety and Health Administration (OSHA) your federal rights for a workplace accident are protected. OSHA ensures healthy and safe working conditions for all men and women by setting and enforcing standards. They also provide education, training, assistance and outreach.
Your employer always needs to follow these safety measures and needs to keep the workplace free of any health or safety hazard. Employers are often required to provide both training and safety equipment to their employees. Equipment such as a harness or gloves may be required to be provided by the employer based on OSHA regulations.
Causes of Construction Site Accident Injuries in Minnesota
In general, construction jobs are well-paid jobs. However, part of the great pay is also because there are some risks and dangers involved. An accident on a construction site can happen very fast if you are not careful.
Construction sites are one of the most dangerous workplaces for a reason. This is the case because construction workers usually work with hazardous materials and large equipments. For sure, they will be more at risk to an accident than the common office worker.
Wondering if we cover your work related injury? In general, it doesn't matter what your injury is. If your employer is at fault, you will be able to recover your losses with the help of our professional lawyers at Weston Law.
That said, there are countless ways you can be injured on a construction site. Our team has seen a wide range of different construction accidents.
See the list below for accidents that we can provide legal services for.
Hire a Minnesota workers compensation lawyer if you where involved in an accident related to:
Falling bricks and other material
Electrical shocks
Crane or hoist accidents.
Chemical spills and burns
Falls from heights
Scaffold collapses
Being hit by a truck on the site
Repetitive stress injuries
Elevator shaft accidents
Trench accidents
Forklift accidents
These are some of the accidents that can take place. As you can see, there are many different ways a construction worker can be involved in an accident. Of course, there are other types of accidents that we will also cover and help you with. Weston Law wil answer all your questions so you can be sure to reclaim all your losses.
FAQ's
What Should an Injured Worker in Minnesota do?
The first thing you should do is to take care of your injury. Medical attention should be taken care of right away. It doesn't matter if you need an ambulance to go to the hospital or just in need of a few bandages, always take care of yourself first.
After you've obtained the first aid necessary for your particular injury, always notify your supervisor about the accident. You should do this as soon as possible.
It's very important that you contact a Minnesota personal injury lawyer as soon as possible after the incident happened. This way you will protect your rights and get the compensation that you deserve.
How long do I have to report a workplace injury?
It's possible that if you don't inform your supervisor right away, that you lose the right for workers compensation benefits.
That's why it's best to report a workplace injury as soon as possible. If for some reason, you can't report this right away, don't worry. In the state of Minnesota, you have 180 days from the day you are injured to report a workplace injury to your supervisor.
In most states, a period this long is unusual. Fortunately, Minnesota recognizes that you may have a delayed injury from your accident that you may not realize right away.
What Types of Benefits Do I Receive For a Workplace Injury?
After your personal injury, and after your workers compensation claim is accepted, you will be able to receive certain benefits.
You have the right to workers compnesation benefits if you were injured on the job in Minnesota. This includes having your medical bills paid, disability payments for your lost wages, rehabilitation, training for another type of job, and several other important benefits. Your right to these benefits does not depend on your employer being at fault. In fact, you have the right to workers' comp benefits in MN even if YOU are at fault in causing your injury. workers compensation
If you are being denied workers comp benefits, our experienced workers comp attorneys at Weston Law Minnesota can help you too.
Contact Our Experienced Minnesota Workplace Accident Attorneys
Why do you need to hire our Minnesota workplace accident and compensation lawyers?
As your professional attorneys in Minnesota, Weston Law will protect your legal rights and make sure you receive maximum wage replacement benefits and the best possible medical treatment.
Construction and workplace accident lawsuits can have a number of complex liability issues. We have handled hundreds of different cases, every single one slightly different than the other.
To schedule a free consultation with a Minnesota workplace accident attorney at Weston Law, you can contact us online or call us at 612-465-9049 for more information and for a 100% free consultation.