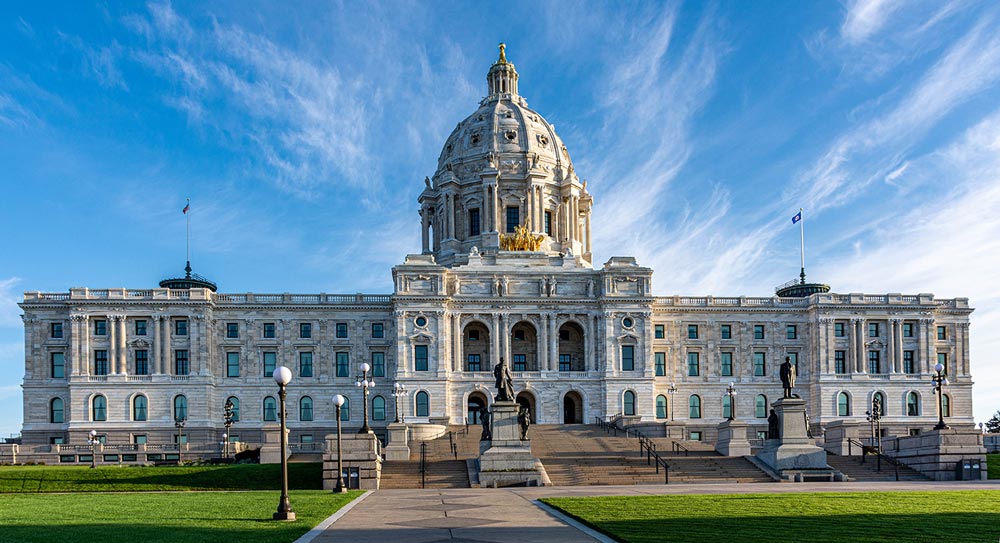 Life can change in a matter of seconds. Imagine an afternoon walking your dog in St. Paul's Lowertown Dog Park, and out of nowhere an aggressive, off-leash dog becomes territorial and attacks, leaving you with an open wound. Or perhaps while cautiously making your way home through Cleveland Circle, a car slides through the intersection and t-bones you. Chronic back pain causes missed work and lost wages. Even the unthinkable can happen. A semi-truck's urgent need to break on a snowy I-94 creates a jackknife across the interstate; consequently, cars pile up and a life has tragically been lost.
Accidents that result in personal injury can happen at any time of year, of course, but as the snow starts falling and the inches pile up on top of St. Paul's already steep, winding roads and busy interstates, the potential for accidents increases. Any harm, injury, or wrongful death that resulted from someone's mistake or negligence is crucial to discuss with a personal injury lawyer.
Fortunately, our experts at Weston Law Office are here to help.
Expert Personal Injury Lawyer
Filing a Personal Injury Claim–Don't Go It Alone
Minnesotans are notoriously proud and independent people. But here's the thing–filing a personal injury claim isn't really the time to DIY. Insurance companies are complicated by design to protect their precious bottom dollar and keep payouts to a minimum.
It can feel confusing to know whether an incident that caused an injury requires a lawyer, and sometimes "Minnesota Nice" keeps people from fighting for compensation from the responsible party. There is no need to engage in an ongoing internal debate about whether or not your injury is severe enough to file a claim; anxiety about lost wages and outstanding medical bills shouldn't cause you paralysis of action. Hiring a personal injury lawyer during this time is your best option because they will act as a sage to guide you through the legal system, navigate the insurance company, and get your finances back in order–in other words, they'll do the hard work for you.
What Should I do if I've Been Hurt?
Here's the process in a nutshell:
Seek Medical Attention
First of all, go to a doctor–that's just common sense. Even if you think that sore hip will clear up in a day or two, it's important to get checked out. Make sure that you are thoroughly looked at, and request paper copies of your visit. Keep all your records: medical records, bills, and get an estimate in writing for future cost. Any expected medical costs or potential lost wages from missing work are important information when filing a personal injury claim.
Seek Legal Help
The lawyers at Weston Law Office care about making life easier for their clients–this is especially true for clients nursing a preventable injury. A free consultation with a personal injury lawyer will help to clarify the process and develop the best strategy for your upcoming chess match with the insurance company.
Seek Settlement
Most insurance companies want to settle fast because open lawsuits are a liability. They want to protect their company's name, and having a knowledgeable lawyer experienced with this process will expedite the settlement.
Can't settle? Suit.
Clearly a lawsuit is everyone's last resort. You are much more likely to receive the settlement you deserve and avoid a long, drawn out lawsuit when you work with a personal injury lawyer.
Legal Help in St. Paul, Minnesota
Our team of legal experts provide help in the city of St. Paul, Minnesota.
Saint Paul, which is the state capital of Minnesota, forms the "Twin Cities" together with neighboring Minneapolis. It's also the home of the Science Museum of Minnesota, This museum has an immersive theather and is famous for its dinousar specimens. Also visit the beautiful beaux art Cathedral of Saint Paul. Lastly, the Minnesota History Center has interactive exhibits about the region's history.
What sorts of Personal Injury Cases do we handle?
At Weston Law Office we handle various personal injury cases involving accidents or injuries in St. Paul, MN. Our injury lawyers provide the following serves.
Looking for a lawyer for these motor vehicle accidents?
Not finding what you are looking for? We provide the same services in multiple areas in Minnesota. Other services we provide in St. Paul consist out of snowmobile accidents, drunk driver accidents, distracted/texting driver accidents, pedestrian accidents and public transportation accidents.
Talk to one of our Attorneys, It's a Win-Win
Of course, a personal injury lawyer can't help with physical pain, but they will certainly help relieve the burden and emotional pain caused by financial worry. It's simple; you work on getting better, and your lawyer works for you. It pays to have an experienced lawyer go toe-to-toe with the insurance companies, fight for a payout, and get you financially back on your feet.