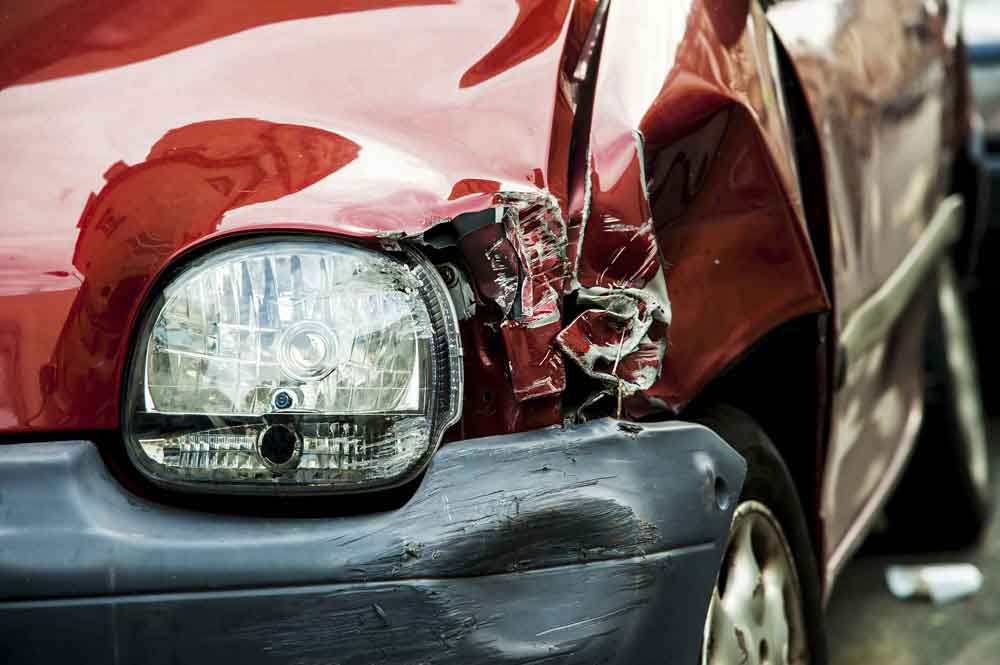 Everyday, Minnesotans get in their car to drive to work, make a Target run, soothe a fussy baby to sleep, or to simply go on a drive. Getting behind the wheel is such a mundane occurrence that it can be easy to forget its potential for harm. The approximate 80,000 car accidents per year in Minnesota alone is a staggering number and somber reminder that the simple act of driving can be perilous.
Because of this, anyone injured in a motor vehicle crash should consider reaching out to a Bloomington car accident lawyer for help. Weston Law Office has experienced andd knowledgeable attorneys that can explain your legal options and fight for your rights. There will be no hassle with the insurance company over medical bills.
Car Accidents
An accident can be life changing, whether it's physically disabling or not. Although many people are able walk away virtually unscathed from an auto accident, they may be left with emotional trauma. In worst case scenarios, car accidents and car crashes can cause physical injuries including bruises, broken bones, paralysis, brain injuries, or death. Trying to heal from a serious injury is traumatic enough, but add the inability to work coupled with enormous medical bills, and it can be easy to see how one car accident can change a life forever.
Every time a person gets behind the wheel, there is a chance they can get into a car accident. This is the main reason why car insurance is a requirement in the state of Minnesota. You'd think that the frequency in which car accidents happen would mean that filing a claim is easy–but that's just not the case. In fact, filing a car insurance claim is difficult by design. Insurance companies make filing a claim confusing on purpose, so if you have been in an auto accident or a drunk driving accident and need maximum compensation, you need a car accident lawyer to help you settle.
No-Fault Insurance: What Exactly is it?
In order to drive a car legally in the US, every motorist needs to have insurance coverage. According to Minnesota law, the most basic form of insurance that a driver has to carry is no-fault insurance. This no-fault insurance law is intended to protect every person who has been injured in an accident by making health care accessible–regardless of who was found to be responsible for causing it. This law is actually pretty great and the epitome of "Minnesota Nice;" it means that every person injured in a car accident is entitled to benefits, even if the accident was their fault.
Because of this law, every single insurance plan available for purchase in Minnesota has to include no-fault coverage. Even the cheapest policy has this benefit. If you have been in a car accident, regardless of how expensive your policy is, your insurance will pay for medical expenses and lost wages due to disability. You have access to this coverage whether or not you caused the accident–hence the name "no-fault."
Filing a no-fault insurance claim is, in theory, a relatively straightforward process. You would call your insurance company, just like you would to file a claim for your car. An important detail to note is that the insurance company must be notified in a timely manner–after six months you'll be unable to file a no-fault claim. You'll speak with an insurance adjuster and keep records of medical expenses or lost wages. You can also claim disability benefits if you have been injured and cannot do household chores like mow the lawn or shovel. You will need to have proof of your injury, and your insurance will likely require a medical examination. Once your insurance company has verified the injuries or disability, they will issue you a settlement.
What kind of benefits can I receive?
You can read about your no-fault benefits in your insurance policy in the Personal Injury Protection (PIP) portion of your policy, but in general, there is a minimum of $40,000 available to you. How this breaks down is $20,000 for medical expenses, and the other $20,000 is for lost wages.
To go into specifics, your no-fault insurance coverage will pay for medical expenses up to $20,000. All the things you'd expect to be covered will be: surgeries, imaging tests, exams, etc. Medical expenses can also include things like chiropractor appointments, physical therapy, or massages. Transportation to and from facilities is also included.
The other $20,000 is considered disability expenses–and this can be a grey area. As previously stated, this amount of money can be used to cover wage losses, but it can also be used to hire help around the house if a disability is severe enough to make housework impossible. The $20,000 is available as $500 per week for lost wages, and up to $200 per week for household help. The math adds up to $700 per week for up to two years. Disability expenses are the most underutilized benefits when a no-fault insurance claim has been filed. This is because they're hard to prove if you choose to file a claim without the help of a lawyer.
Furthermore, it should be noted that if the car accident results in a death, money will be awarded to cover funeral costs.
Insurance Companies: Working For You?
Insurance companies like to market themselves as sympathetic and caring; they're portrayed as a safety net for the policyholder. They want you to believe they will have your back should you become injured in a car accident. No injured person should have to carry this financial or emotional burden.
In reality, auto insurance companies are not really here for you; they are here for their bottom dollar. Insurance companies represent approximately 10% of all Fortune 500 companies because they are extremely good at being profitable. Why is that? Because they are experts at denying insurance claims–specifically no-fault claims.
Let's take a closer look at the process. If you have been in a car accident and filed a no-fault claim to pay for your medical expenses, you will have to submit to a medical examination by an "independent" physician. Here's the deal, that physician is not really "independent;" they are bankrolled by the insurance company. Due to the cooperation clause in your insurance policy, this "independent" examination is mandatory to receive benefits.
Furthermore, because the "independent" physician is hired by the insurance company, they are incentivized to deny medical and wage loss benefits. At this point, you might be wondering about the hippocratic oath–you know, "Do no harm." Yeah, that doesn't apply here. The doctor will explain to you immediately that no doctor/patient relationship is formed during the visit because they are not actually treating you. They are merely examining your condition so as to disclose their findings to the insurance company. They will not be held responsible for any misdiagnosis or malpractice in the form of suggesting you don't need medical treatment.
Additionally, some injuries are harder for doctors to diagnose or show evidence of, even if you know the injury is there. Injuries, such as whiplash, are common after a car accident, but they are hard to verify–especially if the doctor charged with its examination has no interest in proving it exists.
The medical examination is the biggest way that insurance companies rig the system in their favor. They also underpay benefits or deny them on technicalities such as a form that has been incorrectly filled out. Insurance companies are experts at dodging your bills. They take your premium each month and essentially dine and dash with it. Remember, they are extremely profitable companies. If they actually paid out the benefits they should, they wouldn't be profitable–they would break even.
Do I Really Need a Car Accident Lawyer?
The short answer is "Yes, we advise you to consult with Bloomington car accident lawyers if you have been in a car accident." Car accident attorneys can determine the documentation needed to support your case. They can also help you in navigating local laws and process to resolve matters of determining fault. Without an extensive understanding of how to value personal injury cases and gather compelling evidence, it might be very difficult to know how much you could demand in a car accident case.
If you're lucky, you have never had to file a no-fault insurance claim–and hopefully you never have to. But what this means is that you're inexperienced in the world of filing insurance claims. Insurance companies have a team of attorneys and adjusters on their side working to make sure they stay profitable. They're experienced, they do this everyday, and they don't mess around.
A personal injury lawyer who specializes in car accident claims will help you through every step of the process. They will explain the legalese on the myriad forms you'll need to complete correctly. They will challenge any denied benefits. They will hold the insurance company accountable by making sure you receive the settlement you deserve.
Additionally, if your injuries are extensive, you're going to be in court anyway. If your medical expenses exceed the allocated $20,000 of your no-fault insurance, you need to suit for additional compensation.
In Minnesota, you will have to sue the at fault driver, but their insurance company pays for their legal representation and any award you should receive.
Which cities in Minnesota do we provide car accident services for?
Our team at Weston Law are professional car accident lawyers. We provide services all around Minnesota. It doesn't matter in which area you're located. We have been personal injury attorney specializing in motor vehicle accidents for the entire state of Minnesota.
Other areas where we provide car accident services in Minnesota are St. Paul, Richfield, Eagan and Roseville. We are based in Bloomington, Minnesota, but these areas are relatively closeby and we have had many legal cases from these locations.
Get in Touch with Us Today
Our experienced personal injury lawyers at Weston Law Office understand the legal process of car accident cases. Our legal professionals are working tirelessly to pursue compensation on your behalf.
Our auto accident attorney will provide you with a free case evaluation. With a free consultation and payment only on contingency, you won't pay any out of pocket expense. You'll need to level the playing field against the insurance company's several adjusters and attorneys if you want a fair settlement after your car accident, and the best way to do that is to hire a lawyer from Weston Law Office who knows how to go toe-to-toe with the insurance company for you.
Related Articles From Our Blog
Why You Should File a Police Report after Your Auto Accident
What Is Classified as a Wrongful Death Auto Accident Case?
The Truth About Car Accident Injury Claims
How Much is my Wrongful Death Auto Accident Case Worth?
Helpful Resources
Federal Trade Commission: Here you can find a guide how to hire a car accident lawyer.
CDC: Motor Vehicle Safety
Minnesota Department of Insurance: What to do after an accident.