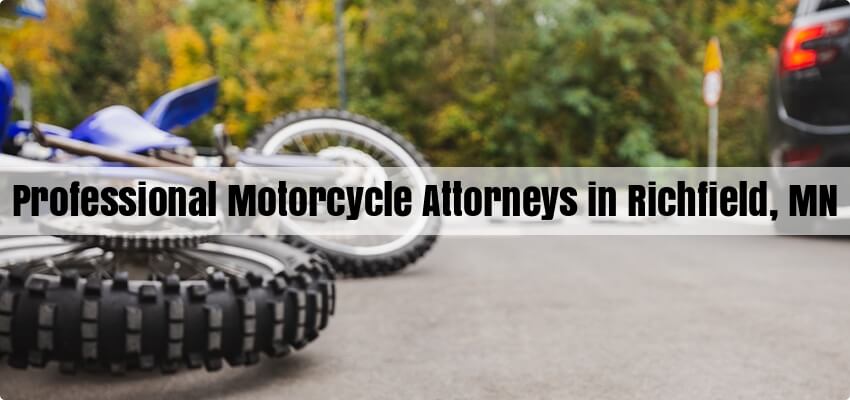 Were you recently injured in a Richfield motorcycle accident? Reach out to us today at (612) 465-9049 to schedule a free case review with a trusted Richfield motorcycle accident lawyer from Weston Law Minnesota.
Every accident case is unique, and we will discuss the ways we can help recover compensation based on your personal case. At Weston Law Office, our knowledgeable accident lawyers based in Richfield will work hard to get the fair financial compensation you deserve.
We have recovered millions of dollars in verdicts and settlements for clients in Minnesota, and more particularly the city of Richfield, MN.
How Our Motorcycle Accident Lawyers Can Help
At Weston Law, our legal team is always focused on getting the best results for injured clients. Thanks to our aggressive approach we leave no stone unturned.
Our main goal is to have satisfied clients. We're able to achieve this by offering professional law services for our motorcycle accident victims.
Why Do I Need a Lawyer for my Motorcycle Accident Case?
A motorcycle accident is a bit different than a car accident. Bikers that are involved in motorcycle accident cases often have very serious serious injuries. Sometimes, it can be challenging to get money back from an insurance company. From our experience, too often, these insurance companies try to find a way to blame the motorcycle rider for their accident to not be held accountable.
A lawyer can make this process a lot easier. Below are some of the things we can assist you with:
Gather the evidence needed to prove your case
Help you with your medical bills
Mazimizing the value of your case
Finally, it's a lot more important to have legal representation in motorcycle cases since these cases are often more serious. Insurance companies won't have your best interest in mind. But we can assure you, we do.
What are some common causes of motorcycle accidents in Richfield?
Motorcycle accidents usually have severe coincidences. Usually people involved in a motorcycle accident won't have a minor accident. But what are the main causes of these accident. Below you'll find more info.
The leading causes of motorcycle accidents in Richfield are:
Alcohol use and DUI's (driving under the influence of alcohol and/or drugs)
Reckless driving and speeding (very common reason)
Improper lane changing and taking turns to fast
Ignoring traffic signals and signs
Failure of other motorists to detect and recognize motorcycles on the road.
This last one is the number 1 cause of motorcycle accidents. Motorcycles are a lot smaller than cars. Even for attentive car drivers it can be hard to see the motorcycle. So even if you are a safe and skilled motorcycles. You can't avoid an accident if the other cars on the road don't see you.
Make sure you know the cause of your accident. Our motorcycle attorneys will need to know this, since it's the basis for holding someone else financially accountable for your injuries. For many accident victims, insurance alone will not compensate for the full extent of your losses.
At Weston Law Richfield, our motorcycle accident attorneys have the experience and resources to identify the cause of your accident. That way we will be able to find out who can be held financially responsible.
FAQs About Motorcycle Accidents in Richfield, Minnesota
What are common causes of motorcycle accidents?
Motorcycle accidents are usually caused by drivers who don't follow the traffic laws, distracted drivers, and drivers who aren't aware of their surroundings. These are examples of negligence by the driver and can result in a personal injury lawsuit.
What should I do after I am involved in an motorcycle accident?
The first thing you should do is call the emergency services. That way, they can treat all the injured parties in the accident. It also gives the police the chance to write up an accident report.
Please never delay medical treatment because you are concerned about the costs. The bills in a motorcycle accident will be covered by the insurance. After this, you should look for a professional personal injury attorney to discuss your situation. In a motorcycle accident, it is always best to have legal representation immediately. Weston Law Office in Richfield, MMN will help with your case the best way possible.
Do I Have to Wear a Motorcycle Helmet in Minnesota?
Under Minnesota law, all motorcycle operators and riders under 18 must wear a helmet. Also, all operators driving a motorcycle under a learner's permit, regardless of age, must wear a helmet. You can read more info about this on our blog.
Why Choose Weston Law Richfield?
You might be thinking why you should choose us? We are one of the top rated motorcylce accident attorneys available in the city of Richfield, Minnesota. We combine our many years of experience and our personal attention to get the best outcome for your case.
We are always available to answer your questions. You can always contact us by phone at 612-465-9049 or email if you need information. Our team of legal experts will help you every step of the way.
Besides motorcycle accidents, we also provide legal services in Richfield, Minnesota for car accidents and truck accidents. So definitely give us a call too if you were involved in these types of accidents.