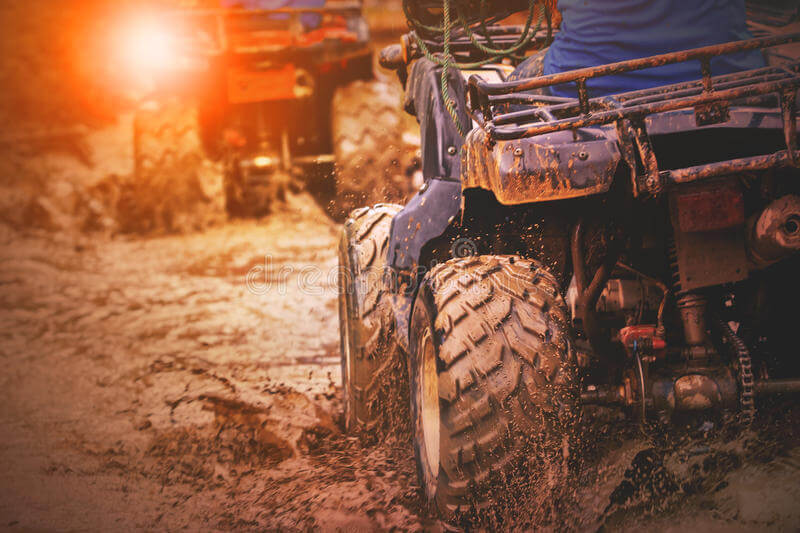 Are you injured in an ATV Accident?
At Weston Law Office, our ATV accident attorneys have decades of experience handling these complex claims. We've helped many Minnesotan clients who were injured in these types of accidents. Recover your compensation for these losses with an experienced attorney in this field (ATV injuries are just one of our specialties, you can find all our practice areas here).
Professional ATV Accident Attorneys Based in Minnesota
With over 500,000 ATVs Registered in Minnesota and a growing number of people hurt from them every year it is important to make sure you know your rights when operating this type of vehicle.
A lot of people like the use of ATV's, both local people in Minnesota as well as tourists who come here to enjoy our outdoor life.
But it goes without saying, that these vehicles are also quite dangerous and can result in some serious injuries, and even death when you are being reckless.
If you or a loved one has been injured in an ATV accident due to the negligence of another person, consider pursuing legal action. Personal injury claims can provide relief for pain and suffering while wrongful death lawsuits may help compensate your family members by giving them financial compensation that they deserve after such devastating events.
Our professional ATV personal injury lawyers at Weston Law Office in Minnesota will help you recover lost salary or wages, medical expenses, pain and suffering, the loss of companionship in the event of a death, and other expenses.
Main Causes of ATV Accidents in the USA
Here are some of the main causes of ATV accidents in Minnesota (and in the United States in general). ATV's can be extremely dangerous for inexperienced persons.
Riding with more than one person: most ATVs are not designed for more than one rider.
Mechanical Defects: Another leading cause of ATV accidents.
Operating an ATV on a paved surface: when they are designed for off-roads. This is not only dangerous, but also illegal in many instances.
Riding without adult supervision: if you are a minor, you should ride with adult supervision to be safe.
Inexperienced operators: if you don't have a lot of experience riding an ATV, you should be more careful, and be sure there is a more experienced person with you.
Operating in unfamiliar areas or terrain: if you're in an area that is unfamiliar to you, pay close attention to your surroundings.
Failing to observe the law.
Important: An inexperienced ATV rider is 13 times more likely to have an accident than a professional one during the first month. The owner has a responsibility of ensuring that amateurs receive proper instruction before operating any type of vehicle-including those on two wheels!
Who Is Liable for My ATV Accident and What Are My Legal Rights?
You may have an option to file a Minnesota personal injury claim and seek compensation.
You can recover financial compensation for damages such as last wages and medical expenses. In states with no-fault insurance laws, like Minnesota, the help of a personal injury lawyer is necessary to maximize your chances of receiving fair compensation.
If you have been injured in an ATV accident and believe that the at-fault party's negligence caused your injuries, a personal injury lawsuit can be filed against them. Your accident might be the cause of negligence, such as a mechanical defect (the fault for your injury lies with the manufacturer of the vehicle). Alternatively, it can also be caused by the actions of another person (the fault for your injury may lie with that individual).
What Can An ATV Attorney Do For Me?
Our attorneys handle all kinds of personal injury cases, including ATV accidents.
We will use all our combined experience to determine the laws, theories, statutes and jurisdictions that are applicable to your claim.
You can visit our offices in Minnesota (located in Bloomington, MN) to receive more information. We can establish who needs to be held liable for your losses.
It's important that you make this claim. If you don't, you may be unable to recover compensation for your ATV injuries.
Our ATV Accident Attorneys May Be Able to Help
You may be entitled to compensation when you are injured in a ATV accident. This type of accident is different from other vehicle accidents. That's why it's important you contact our personal injury attorneys. They will help you understand your case more thoroughly.
To learn more about how our team at Weston Law can help you, please get in touch with us today. We handle every case as a unique case, and give you the attention that you deserve.
Frequently Asked Questions
Do you have to register an ATV in Minnesota?
Yes, the Minnesota Statute 84.922 does require that all-terrain vehicles (ATVs) and off road vehicles (ORVs) are registered unless exempt! A public use ATV is valid for 3 years from the year of issuance. After that, you'll need to extend it.
Find other vehicle accidents lawyers here